Zagreb gets 15 new buses under EU co-financing agreement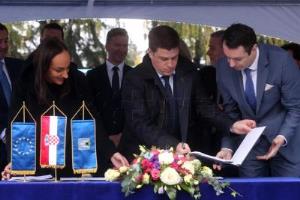 Zagreb's municipal transport company ZET has procured 15 new buses under a grant agreement co-financed by the EU Cohesion Fund.
The project is worth 42.5 million kuna, of which 32 million will be covered from the EU Cohesion Fund (85 percent) and the state budget (15 percent). The rest will be covered by ZET.
The grant agreement was signed on Monday by the Minister of Maritime Affairs, Transport and Infrastructure, Oleg Butkovic, the Director of the Central Finance and Contracting Agency, Tomislav Petric, and the Chair of the Zagrebacki Holding management board, Ana Stojic Deban.
Five buses are already in operation and the remaining ten are due to be put in service today.
This is the first in a series of purchases of buses for Croatian cities, for which Croatia is entitled to 315 million kuna in EU grants. Over the next year about 170 new buses will be procured for Split, Zadar, Sisak, Rijeka, Dubrovnik, Pula, Osijek and Vinkovci, Butkovic said.