Gredelj rolling stock factory optimistic about its future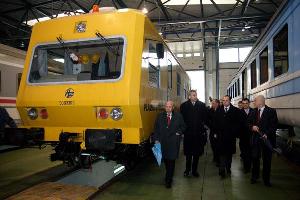 The Croatian rolling stock factory TZV Gredelj, which is in the process of bankruptcy, held a press conference on Monday to present the delivery of four diesel locomotives commissioned by the Moroccan national railway operator.
The first four locomotives were delivered in February, another 20 are to be delivered by mid-July and a further ten by the end of October. Gredelj restored the locomotives in collaboration
with the US National Railway Equipment Company (NREC), earning 400,000 euros per locomotive.
The presentation was attended by the Minister of Maritime Affairs, Transport and Infrastructure,
Sinisa Hajdas Doncic
, and the official receiver,
Petar Hrkac
, who both expressed their optimism about the company's future.
Gredelj once had 1,600 workers and now employs slightly over 1,000. It generates most of its income from exports and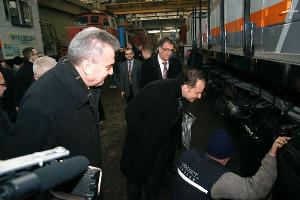 cooperates with NREC, which is negotiating with creditors about its possible acquisition of Gredelj, whereby the Croatian company would become a global player, the minister said.
The Croatian rail operator HZ has completed an initial assessment of bids for the construction of 32 trains and the most likely candidates for the job are Koncar and Gredelj, he added.
Hajdas Doncic said he was pleased that, in addition to repairing old locomotives, Gredelj also worked on modernising locomotives that could be competitive not just in Croatia and the region, but also outside Europe.
Hrkac said that he was happy that Gredelj had over 1,000 workers and that there was a positive spirit of optimism in the company. He expressed his confidence that the present workers would continue working and producing.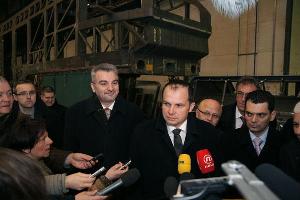 When asked if it was true that Chinese and US partners were interested in taking over Gredelj, Hrkac said that the Chinese had visited the company a few days ago, but had not yet made a concrete offer, while the Americans visited Gredelj about a week ago and were also still thinking about that option.
Hrkac said that Gredelj expected contracts worth about 200 million kuna by the end of the year, noting that its locomotives plant was operating full time and was working for all countries in the region and Morocco.
(Hina)