Swedish trade mission visits Rijeka
Swedish Minister for the Environment
Lena Ek
on Thursday headed the Swedish trade mission currently on a three-day visit to Croatia, to the northern coastal town of Rijeka where she said that exceptionally good opportunities for cooperation existed for Swedish and local businessmen in that town, particularly in transport of goods and services, the application of new technology, sustainable development and energy efficiency.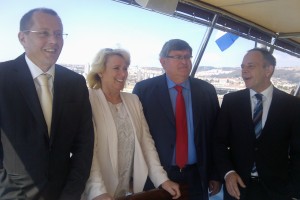 The Swedish trade mission along with Minister Ek attended a round table discussion in the City's Offices to discuss the Rijeka port and possible transport and infrastructure projects.
Ek explained that there were several reasons for the mission's visit, underscoring traditionally good relations between the two countries and that Sweden has around 60 companies present in Croatia.
She announced that several Swedish companies intended to open branch offices in Rijeka as this city was particularly important due to the dynamics and care it dedicates to the city's development.
Rijeka Mayor
Vojko Obersnel
assessed that as far as investments were concerned, Rijeka would be even more attractive upon Croatia's accession to the European Union.
Assistant Maritime Affairs, Transportation and Infrastructure Minister
Dan Simonic
said that several projects were presented today at the state and local level and that it was probable that transport development programmes for Rijeka would interest Swedish investors.
(Hina)