Meeting of the ECAC Member States Directors General of the Civil Aviation Authorities
The Meeting was held on August 30 – September 3, 2012. Directors General of the Civil Aviation Authorities of 44 countries together with top officials of International Civil Aviation Organizations participated in the event.

Seeing it as the unique opportunity to demonstrate country's achievements in the field of civil aviation and its potential in this direction, GCAA took initiative to host the event, which is the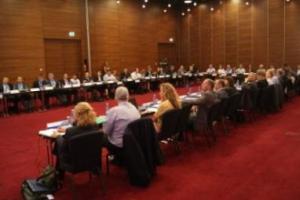 first high-level official Meeting to be held in Georgia in the aviation sphere.

ECAC Special Meeting of Directors General of Civil Aviation is held annually covering all major safety and security matters of Civil Aviation.

Summing up the ECAC Secretariat activities since DGCA/138, ECAC's external relations policy, future priorities of the Organization, funding of the ECAC Special Project Fund for 2013-15, preparation for next ICAO Assembly and other important issues were discussed during the sessions. The Meeting was presided by Salvatore Sciacchitano, Executive Secretary of ECAC.

Vera Kobalia, Minister of Economy and Sustainable Development opened the Meeting with welcome speech. Irakli Davitadze, Director of Civil Aviation Agency delivered detailed report on the air transport activities in Georgia.

Raymond Benjamin, ICAO Secretary General, Luis Antonio Fonseca de Almeida, Regional Director of the ICAO European and North Atlantic Office, Patrick Goudou, EASA Director General, David McMillan, General Director of EUROCONTROL, Henrik Hololei, Head of Cabinet of Siim Kallas, and Matthew Baldwin, Director of Air Transport at the Europen Commission's Directorate General for Mobility and Transport participated in the event.