Gov't to invest 20 mln kuna in Rijeka Airport in 2018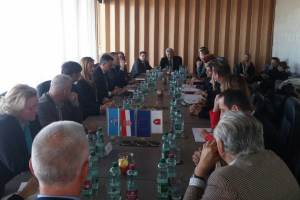 Transport and Infrastructure Minister Oleg Butkovic on Friday announced new investments in the amount of 20 million kuna during 2018 in the infrastructure projects of Rijeka Airport.
After a meeting with local authorities which was held in Omisalj on the island of Krk, where Rijeka Airport is located, Minister Butkovic said that larger-scale state investment could be now expected for Rijeka after the airports of Zagreb and Dubrovnik had been provided with state support.
Concerning the airport on the island of Krk, Butkovic said that its business should not be observed only in terms of passengers' statistics but also in terms of transshipped cargo. In that respect, Rijeka Airport ranks second in Croatia.
Primorje-Gorski Kotar County Prefect Zlatko Komadina called for investments in two directions: infrastructural and through combined advertisements.
So far this year, 145,000 passengers have been catered for by the airport, and an estimated 200,000 are expected in 2018.

(Hina)