Minister signs transport infrastructure agreements with Sibenik, Zadar officials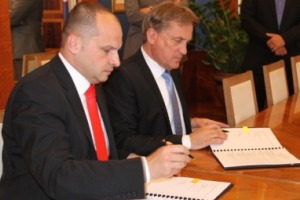 Agreements relating to transport infrastructure were signed on Wednesday in the central coastal towns of Sibenik and Zadar.

An agreement for the design of an inter - modal urban ecological system of public transport for buses and ships (UrbEco) for the central coastal town of Sibenik and an agreement for the design of a masterplan of sustainable mobility in Zadar were signed by Maritime Affairs, Transport and Infrastructure Minister Sinisa Hajdas Doncic and town officials.

The Sibenik project is valued at 1.03 million kuna and is aimed at setting up an intermodal bus and ship public transport system based on innovative and ecological solutions.

Sibenik Deputy Mayor Danijel Mileta said that the town was satisfied with its cooperation with the ministry, however, he hoped that the national road authority - Hrvatske Ceste - would be a little more efficient as several projects for key traffic points in the town were at a standstill.

The Zadar transport masterplan is valued at around HRK 2.9 million and 85% is to be co-financed from the European Union Regional Development Fund. The plan should facilitate a sustainable transport system for the town with emphasis on public land and sea transport and alternative modes of transport.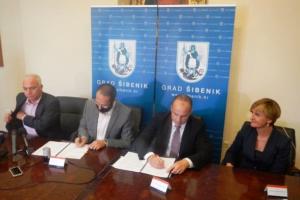 Hajdas Doncic underscored that Zadar was one of ten towns and counties that had applied for and been granted funds and were now in the "market race" as they have HRK 1.6 billion at their disposal for intelligent transport systems.

"I'm glad that we managed to obtain funds so that we can now finally also apply for EU funding to improve the transport situation in Zadar and its surroundings," Mayor Bozidar Kalmeta said.

Zadar currently has projects valued at around HRK 53 million that are being financed with EU funds.