Uljanik dock to construct 4 ferries for Jadrolinija
The Pula based Uljanik shipyard in the northern Adriatic is to construct four new ferries for the Jadrolinija ferry company and a contract for this job, estimated to be worth EUR 32 million, was signed in Rijeka on Monday by Jadrolinija CEO
Slavko Loncar
and Uljanik's CEO
Ante Brajkovic
, in the pressence of minister of Maritime affairs, Transport and Infrastructure,
Sinisa Hajdas Doncic
.
The signing ceremony was attended by transport minister Sinisa Hajdas Doncic who also signed an agreement with Jadrolinija on the management of a special training ship, which is equipped for 28 students, four teachers and seven crew.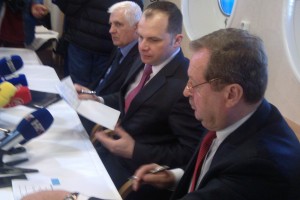 The new ferries will renew Jadrolinija's fleet for coastal passenger travel and it is expected that they will be completed ahead of the 2014 tourism season.
Each of the four ferries will have a capacity to transport 616 passengers, with salons catering for 322 passengers and 145 vehicles which will increase the fleet's capacity by 10% in all and 20% in vehicle transport, Loncar said.
Reporters were interested to know if one of the ferries at least would be constructed at the 3. May dock in Rijeka which Uljanik intends to take over. Uljanik's CEO responded that the dock submitted the bid for this job as one complete package and that splitting construction would incur additional costs so all four would be built in Uljanik.
(Hina)