Jadrolinija shipping company celebrates 70th anniversary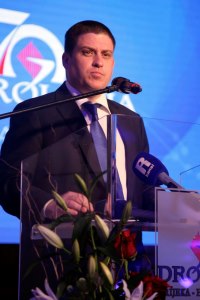 Croatia's leading liner shipping company Jadrolinija celebrated the 70th anniversary since its establishment at a ceremony in Rijeka on Tuesday, with Transport and Infrastructure Minister Oleg Butkovic saying that Jadrolinija was a Croatian brand.
Butkovic praised the Rijeka-headquartered company as one of the top 10 global shipping companies for maritime transport of passengers.
The minister said that Jadrolinija's share in maritime passenger transport in Croatia was 87% and that it accounted for 90% of vehicles transport by sea in the country.
The management board chair, David Sopta, said that since its establishment, Jadrolinija had been playing an irreplaceable role in the life of inhabitants of Croatian islands and coastal towns.
"The company was founded on 20th January 1947 in Rijeka as a successor of various mergers of small-sized shipowners having taken place since 1872. The basic purpose of Jadrolinija is to connect major centres along the Croatian coast as well as numerous islands with the mainland. The carriage of passengers and vehicles is of seasonal character and closely related to the travel and tourism industry," Jadrolinija says on its website.
It also boasts of three "spacious car ferries: Marko Polo, Dubrovnik and Zadar operating on the international lines towards Italy (Ancona and Bari). 34 smaller car-ferries, 3 classic passenger ships and 10 catamarans sail on the regular local car- ferry and ship lines in the Adriatic, divided into 3 districts: Rijeka, Zadar & Sibenik and Split & Dubrovnik."
Positive results YTD
Jadrolinija transported 11.8 million passengers and 2.9 million vehicles in the first 11 months of 2017, which was a rise of 7% year on year.
The company has a fleet of 50 ships with a total capacity of 27,495 passengers and 3,824 vehicles. It operates 34 transport services in Croatia and 4 international lines, and employs1,700 workers, of whom 75% are sailors.
Sopta said the company's operations were stable financially.