MSC Fantasia, largest cruise ship ever to visit Split
The cruise ship MSC Fantasia, with 3,500 passengers aboard, arrived in the southern port city of Split on Saturday morning, marking the start of the cruiser season in the city.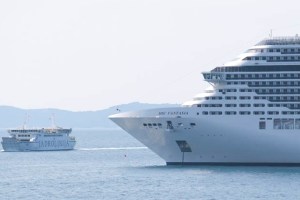 "The MSC Fantasia is 333 metres long and is the largest ship ever to arrive in Split. Because of its size and draught of 8.5 metres, it did not anchor in the harbour but outside of it," Split Port Authority official
Vjekoslav Grgic
said.
About 1,000 of the passengers travelled to the Marian shrine at Medjugorje in neighbouring Bosnia and Herzegovina, while the rest stayed in Split. The cruiser was scheduled to sail out at 7.30pm on Saturday.
(Hina)