President Grabar - Kitarovic laid the foundation stone to build the new passenger terminal building in New port Gazenica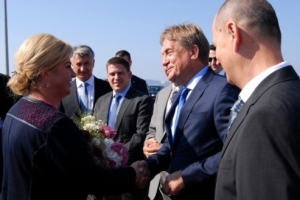 President of the Republic of Croatia,
Kolinda Grabar - Kitarovic
and Minister of Maritime Affairs, Transport and Infrastructure,
Oleg Butkovic
participated in the opening of the construction work on the future terminal building at the new port of Gaženica, during a formal ceremon at wich the President Kolinda Grabar - Kitarovic laid the foundation stone for a new passenger terminal.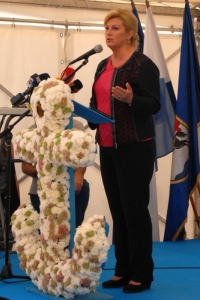 The construction of the terminal will provide a boost not just to the local tourist industry and job creation but also to other development projects in the city and the county. It will enable the arrival of more ferries and cruise ships, the president said.
"I believe in Croatian tourism and think that the number of such vessels will further increase as logistical conditions are fulfilled.". - Grabar - Kitarovic said.
The mayor of the city of Zadar,
Bozidar Kalmeta
, in his address, expressed his satisfaction with the continuation of the third and also the last stage in the realization of a major project to build a new port Gaženica.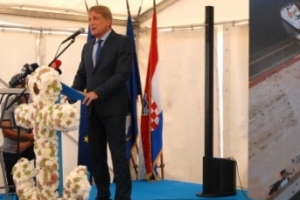 "In the last hundred years this is about the most important project in Zadar, and the effects will be having an impact in the next one hundred years and more. The terminal will provide new jobs and a strong development of tourism. Citizens do not need to take care of themselves and their children when it comes to working places.". - said the mayor of the City of Zadar, Bozidar Kalmeta.
Minister of Maritime Affairs, Transport and Infrastructure Oleg Butkovic also addressed the guests underlined the importance of continued implementation of the Project New port Gazenica that will by building the terminal building finally start to operate at full capacity.
"I'm really proud watching here in Gaženica, the place where before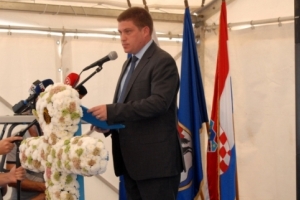 only eight years contained household waste disposal, emerges one of the most modern passenger port in the Mediterranean, which will become an unavoidable and significant point on the maps maritime transport routes throughout Europe. This project requires a decade of hard work.". - said Minister of Maritime Affairs, Transport and Infrastructure, Oleg Butkovic.
The third and final stage of the project includes the construction of a terminal measuring 24,537 square metres with supporting infrastructure and parking lots.
The work is to be completed in 14 months, in early 2018, and the value of the third stage of the project is 25 million euros exclusive of VAT.
The creditor bank is the German KfW Development Bank and the work will be carried out by Austria's Strabag and its partners.