All maritime traffic services to go digital within three years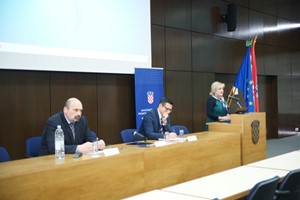 The Ministry of the Sea, Transport and Infrastructure on Wednesday presented a project that plans to digitise all key public services in maritime traffic with the aim of relieving red tape for all stakeholders in that segment.
Addressing a conference on a single maritime interface and digitisation in maritime traffic, State Secretary for the Sea Maja Markovcic Kostelac underscored that the project's aim is to relieve red tape in the logistics chain for cargo transport at ports and for more efficient monitoring of data about passenger numbers, number of vessels sailing etc.
The second phase of the Cimis project was presented at the conference, which electronically records vessel arrivals and departures as well as information exchange about ships, cargo and passengers.
A HRK 12 million grant has been secured for the project, which is being jointly implemented by the ministry, Customs Administration, Rijeka and Ploce port administrations and will establish a single IT platform for information exchange and data analysis.
Markovcic Kostelac explained that the ministry is also developing an e-pomorac system so that Croatian seamen can do all administrative work via an IT interface without having to meet maritime authorities unless it is absolutely necessary.
(Hina)