Agreements inked for development of Slavonian river port and fairway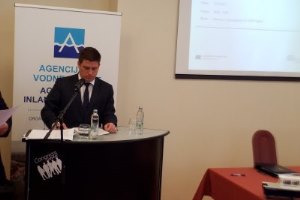 Minister of the Sea, Transport and Infrastructure Oleg Butkovic, Innovation and Networks Executive Agency (INEA) Director Dirk Beckers and the director of the Slavonski Brod Port Authority, Marijan Juric, on Wednesday signed agreements for co-financing projects valued at about HRK 110 million that relate to the upgrade of the river port infrastructure and a feasibility study on the revitalisation of traffic along the Sava River.
The agreements were signed as part of the National Forum of stakeholders of the FAIRway Danube project. This relates to two projects that will be co-financed from the Connecting Europe Facility (CEF), which was approved in June.
The projects involve the upgrading of the Slavonski Brod river port infrastructure, an environmental impact study and relevant project documentation for the Sava River aimed at revitalising river traffic along the Sava.
"River traffic provides competitive prices, great freight capacity and a high level of security. The signing of these agreements will enable the revitalisation of one section of the Sava route, from Jaruga to Novigrad, as well as creating conditions for opening the fairway to develop the Slavonski Brod port," Minister Butkovic said.
Together with the Coordinator of the Rhine-Danube Core Network Corridor, Karla Peijs, Minister Butkovic christened a new ship in the Vukovar winter port. The ship will serve for the hydraulic recording of fairway and is valued at more than HRK 500,000. It is also financed through the Fairway project.
According to Peijs, the agreements and the christening of the new ship are good news for Croatia and the Rhine-Danube corridor.
This shows the dedication the European Union has toward the Danube and Sava rivers. Not only are we supporting Croatia in its endeavours for continuous, reliable and safe internal river traffic, but all the countries along the Danube too, Peijs said.
The first forum of the FAIRway Danube project was held in Vukovar last year. The FAIRway Danube project will assist in increasing knowledge about critical sections of the Danube and provide information for planning optimal Danube fairway routing.
FAIRway Danube involves 6 countries: Austria, Slovakia, Hungary, Croatia, Bulgaria and Romania under the aegis of the European Commission's INEA. It is financed with CEF funds amounting to 23 million euros. Croatia's portion of the project amounts to 2.2 million euros.

HINA