Second phase of reconstruction of Klenovica fishing port completed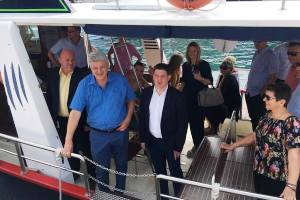 The Minister of the Sea, Transport and Infrastructure, Oleg Butkovic (HDZ), and the head of Primorje-Gorski Kotar County, Zlatko Komadina (SDP), sailed into the northern Adriatic fishing port of Klenovica on Saturday to mark the completion of work on the second phase of the port's reconstruction, worth HRK 16 million (EUR 2.16 million).
The port reconstruction project began 12 years ago when Butkovic served as mayor of the nearby town of Novi Vinodolski.
During the first phase of the project, in 2011 and 2012, a primary breakwater was built, while work on the secondary phase, which included construction of a 56-metre-long secondary breakwater and extension of the wharf with berths for fishing boats, began in September 2017. The total value of the work is nearly HRK 30 million (EUR 4 million), Butkovic said.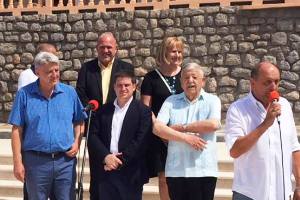 He said that similar projects were being carried out or planned at another 28 locations along the Adriatic coast. For this purpose Croatia has at its disposal about EUR 80 million from EU funds, along with HRK 60 million (EUR 8 million) from the state budget.
Butkovic said that the newly-reconstructed fishing port would ensure a future for Klenovica and its tourist industry.
Komadina said that the port of Klenovica was a project of a generation and proof that "when something starts in time and in unity, it can be finished in the best possible way."
The project was co-financed by the Ministry of the Sea, Transport and Infrastructure and Primorje-Gorski Kotar County, and was carried out by the Krk and Sun Adria construction companies.
(Hina)