"Gerda Maersk" biggest vessel to be moored in Rijeka to date
"Gerda Maersk", a vessel 367 metres longs with its gross tonnage put at 98,268, was moored in the Brajdica container terminal in the Port of Rijeka on Friday.

The ship, with the capacity of 10,150 TEU, is the biggest vessel to sail into the Port of Rijeka, executives of the Adriatic Gate Container Terminal (Jadranska vrata d.d.) company, which operates the Brajdica terminal within the Port of Rijeka, told a news conference in that northern Croatian Adriatic city on Friday.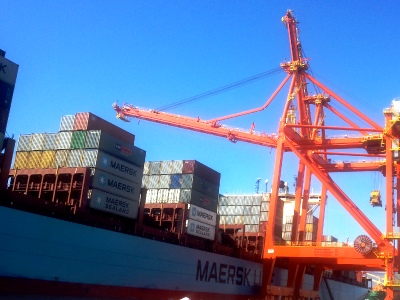 "Gerda Maersk" arrived in Rijeka within a new shipping service launched by the Maersk Line and MSC companies. In 2014, Maersk Line and the MSC Mediterranean Shipping Company S. A. concluded a ten - year vessel sharing agreement (VSA) on Asia-Europe, Transatlantic and Transpacific trades. Within this service, 15 ships are set to arrive in Rijeka, Koper, Slovenia and Trieste, Italy, one a week.

Adriatic Gate Container Terminal's new Chief Executive Officer, Alessandro Becce, said the developments helped accomplish the goal of previous management boards of the Brajdica terminal operator to attract leading global shipping companies.

Rijeka Mayor Vojko Obersnel said the new business deals confirmed the justification of the terminal's expansion and upgrade.


(Hina)