Cargo transloaded in Port of Ploce up 5% in 2013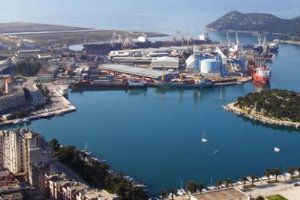 The seaport of Ploce transloaded a total of 2.7 million tonnes of cargo during 2013, which was a five-percent rise from 2012, the director of this southern Croatian seaport, Ivan Pavlovic, said on Sunday.
The result in 2013 was still below the level of the port's total annual capacity of transloading five million tonnes, and this low achievement in 2013 was ascribed to the objective state of affairs on the market of Bosnia and Herzegovina, the main user of the port.
The transloading of bulk cargo registered a rise while container cargo was on the decline.
The new facilities for transloading liquid cargo are to be inaugurated in June this year which will positively impact the company's performance, according to the director who expects that the amount of cargo transloaded by this seaport will be by 600,000 tonnes higher in 2014 than in 2013.
This will hinge "on the quality of communications with Bosnia and Herzegovina", said Pavlovic, adding that the current developments in the Croatian Railways (HZ) Cargo did not give rise to optimism, either.