Bozidar Kalmeta handed authority over the Ministry to Zlatko Komadina, the new Minister of Maritime Affairs, Transport and Infrastructure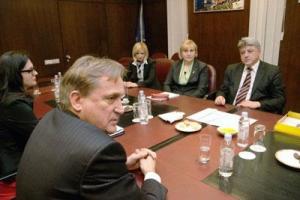 Former Minister Bozidar Kalmeta presented the report to the new Minister of Maritime Affairs, Transport and Infrastructure Zlatko Komadina at the ministry headquarters in the Kockica building, where were performed the government takeover, today on early evening.

This is a complex Ministry that covers all aspects of transport and transport infrastructure, so in these complex times we will require new models of financing of the new capital constructions to increase the GDP, and the workload of building operations, said Zlatko Komadina.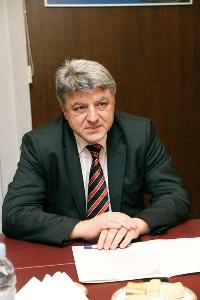 Congratulating to the new Minister, former Minister Kalmeta wished him success in carrying out this difficult, but responsible and good job by saying that at the head of the Ministry of Maritime Affairs, Transport and Infrastructure came a man with vast experience in politics, who also has a longtime succesful leadership experience as a Kvarner County Prefect, and Kalmeta specifically noted that the new Minister is a man with human qualities.

Former and current Minister talked about the structure of the Ministry, the financial commitments in the future periods, and of the other outstanding issues such as procedures for granting concessions to the Zagreb Airport, shipbuilding ports, nautical ports and ferries.

Zlatko Komadina thanked to Kalmeta for helpful advices on certain issues, as well as to the State Secretaries, who, although dismissed, were present at the handover.

The new Minister has given the former Minister a symbolic gift in the form of a crystal cube with a blazon of the Kvarner County, wich he led as a Prefect more than ten years.