Contract inked for extension of wharf in Split seaport
An HRK 32.4 million contract on the extension of a wharf in the Split City Seaport was signed on Monday by the Split Port Authorities and the Pongrad Inzenjering company that will conduct the reconstruction of the wharf.

At the document-signing ceremony, the acting head of the Split port authorities, Joško Berket Bakota, said that the reasons for the addition of new berths was to lessen the intensity of traffic congestion.

According to him, the volume of transport through the Split city port increased by four percent in the first eight months of 2012.

The number of cruise ships will increase to a record high 272 by the end of this year, with some 230,000 passengers, up 33%.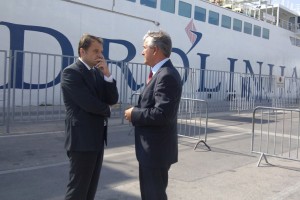 The extension of the wharf is expected to be completed in the next nine months.

Transport Minister Siniša Hajdaš Dončić, who attended the ceremony, announced the construction of new berths so as to enable Split to welcome cruise ships long up to 320 metres.


(Hina)