New container terminal wharf in Rijeka formally opened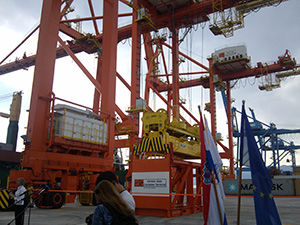 A ceremony was held in the northern Adriatic port city of Rijeka on Wednesday to mark the start of operation of a newly-built wharf at the Brajdica container terminal, a project worth about 30 million euros.
The project to extend the Brajdica terminal was financed with a World Bank loan as part of the Rijeka Gateway project aimed at modernising the port. About 320 metres of the new wharf has been built and the storage area has been doubled.
The concessionaire, Jadranska Vrata d.d./Adriatic Gate Container Terminal (AGCT), has invested over 30 million euros in equipping the new wharf and the container storage area and plans to invest a further 35 million in the coming years.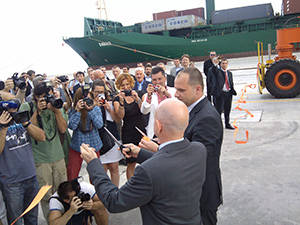 The new wharf enhanced the transport capacity of the port and the Rijeka transport corridor and laid the ground for transport growth and for the positioning of Rijeka as the European Union's first port of call in the Adriatic.
The Minister of Maritime Affairs, Transport and Infrastructure,
Sinisa Hajdas Doncic
, said he was proud that Croatia had decided to participate in a successful project for the construction of the container terminal, which he said showed the efficiency of public/private partnerships.
Hajdas Doncic said that one of the government's priorities was to develop rail transport, adding that this would ensure good transport connections and growth for Rijeka. He noted that already now Rijeka was becoming an alternative to other ports in the region.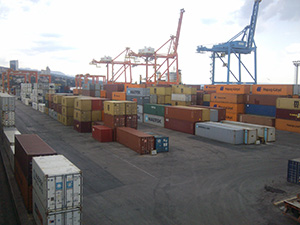 The minister said he was confident that the Rijeka transport corridor would be fully functioning by 2019, which means that the railway line would be modernised. He stressed that this corridor, after becoming part of the EU corridor network, was definitely top priority for the government.
Among those attending the ceremony were Finance Minister
Slavko Linic
, Rijeka Mayor
Vojko Obersnel
and representatives of several companies.
(Hina)