Split Port Authority signs EUR 18.8 million loan deal with EBRD for port upgrade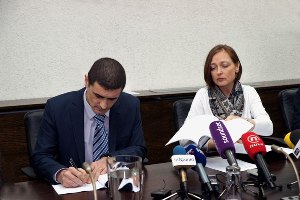 The Split Port Authority and the European Bank for Reconstruction and Development (EBRD) have signed a EUR 18.8 million loan agreement to enhance the capacity of this southern Croatian Adriatic port to be able to receive large cruise ships.
The agreement was signed in Zagreb on Monday by the head of the Split Port Authority,
Milan Blazevski
, and the EBRD Director for Croatia and Hungary,
Zsuzsanna Hargitai
, who also signed a government guarantee agreement with Finance Minister
Slavko Linic
.
The loan is to be repaid over a period of 15 years, with a grace period of four years, and at an interest rate of 2.5%. The project is to be completed by the summer season of 2015.
The signing ceremony was attended by the Minister of Maritime Affairs, Transport and Infrastructure,
Sinisa Hajdas Doncic
, who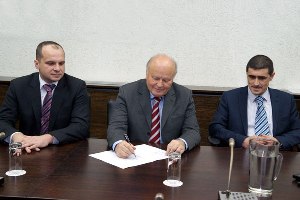 said that with this project the state investments in the Port of Split exceeded 200 million kuna, noting that the loan would be repaid by the port itself.
The loan will be used to build two new berths that will be able to receive ships measuring from 270 to 320 metres in length, two 28-metre wide roll-on/roll-off ramps for vehicles and passengers and other facilities that will increase the volume of transport and revenues of the port and of the city and the county as well, Blazevski said.
He said that the need to expand and upgrade the port arose after the volume of transport increased by about 30% as a growing number of tourists and cruise ships were visiting the Croatian Adriatic and Split.
Hargitai said that this was the EBRD's third loan for the modernisation of seaports in Croatia, after the ports of Dubrovnik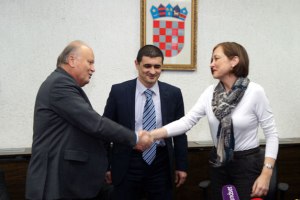 and Sibenik, and that it would help the Port of Split to become the first Croatian port to receive certificates of sustainability and environmental protection.
She said that this week she would sign loan agreements for a few more projects in Croatia, including those for the water supply and sewage systems in Sibenik and Cakovec.
Thanking the EBRD for supporting investments in Croatia, Linic highlighted the need to attract more loans from the EBRD and to implement investment projects effectively.
(Hina)