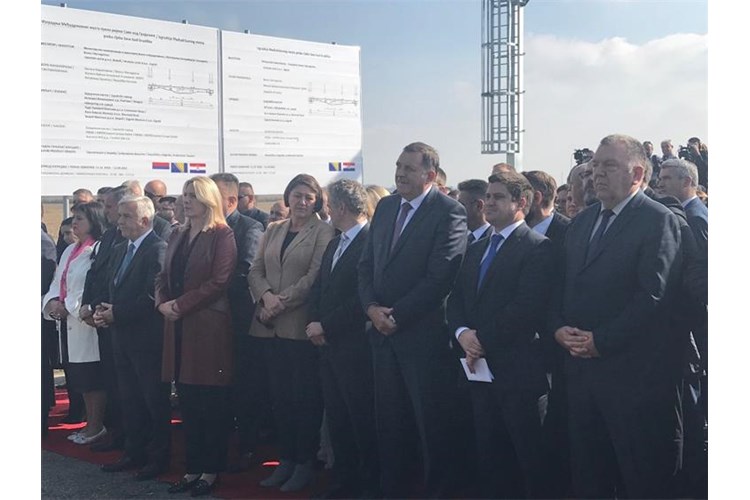 Work on a new bridge between Croatia and Bosnia and Herzegovina opened on the Bosnian side of the Sava river at Gradiska on Friday.
The new bridge, which was the subject of negotiations for 14 years, is to be finished in 30 months. It will connect the motorway networks of the two countries and speed up the flow of traffic at the busy border crossing at Gradiska, the shortest road route from Zagreb to Banja Luka and on to Sarajevo.
Currently, vehicles use the old bridge and go through the town's centre, causing traffic jams. On the Bosnian side, a motorway leading up to the bank of the Sava was built long ago, and last year a new customs terminal was built and the border crossing point was equipped, but they will not be put in operation until the new bridge has been built.
The ground-breaking ceremony was attended by Croatian Minister of Sea, Transport and Infrastructure Oleg Butkovic, European Commissioner for Mobility and Transport Violeta Bulc, the Head of the EU Delegation to Bosnia and Herzegovina, Johann Sattler and the Member of Bosnia and Herzegovina's Presidency, Milorad Dodik.
Minister Butkovic said that the two countries and their people needed better transport connections. "The construction of the bridge at Gradiska is equally important for Croatia and for Bosnia and Herzegovina because it will connect people on both sides of the Sava," he said and thanked the European Commission for its support.
The project is worth €23.5 million (with VAT) and it will ensure a connection to the E661 transport corridor between Central Europe and the Adriatic.
(Hina)
Announcements