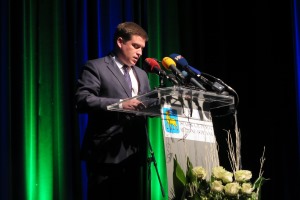 A special meeting of Istria County Assembly was held on Monday in the city of Pazin in the presence of President Kolinda Grabar-Kitarovic and many guests to mark the county's day and the 74th anniversary of the Pazin Declaration on the reunification of Istria with Croatia and the 70th anniversary of the Paris Peace Conference.
President Grabar-Kitarovic recalled that it was in Istria where the first victims of fascism in Europe fell and that it was here that the first anti-fascist movement emerged.
"Every Istrian patriot was an anti-fascist, regardless of ideological affiliation and Catholic priests made a special contribution to that national struggle," the president said and was booed by the public while any mention of former Yugoslav president, Josip Broz Tito was welcomed with loud applause.
"Recalling the 70th anniversary of the Paris Peace Conference, it is necessary to underline that the Catholic priests headed by Don Bozo Milanovic and the release of 'Spomenica hrvatskog svecenstva u Istri' (Testimonial of the Croatian Clergy in Istria)' and other actions during the Paris Peace Conference, made a key contribution to the final international acknowledgement of the Pazin Declaration."
"Unfortunately, that contribution was not valued after the (Second World) war. On the contrary, due to ideological reasons, members of the Catholic Church were subjected to persecution and murders," Grabar-Kitarovic said and while she was leaving the assembly hall, some of the audience was singing Partisan war songs.
Grabar-Kitarovic underscored the role of Istrian patriots during the Homeland War and commended Istria's development which shows that the county model of regional development does not thwart development but in fact advances it.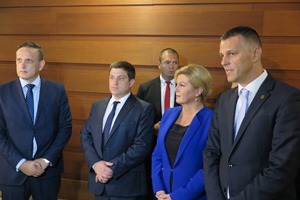 Minister of Transportation, Maritime Affairs and Infrastructure, Oleg Butkovic, said that large-scale investments were being made in Istria County, including road infrastructure, air transport and seaports, all of which will contribute to even greater economic development.
"Public investments which the government is implementing in Istria is clear confirmation of the government's commitment to the equal development of all areas of Croatia. The aim of the said investments is to further raise the level of economic activity and enhance Istria's transport connectivity with the rest of Croatia," Butkovic said.

(HINA)