Zagreb-Savski Marof railway reconstruction contract signed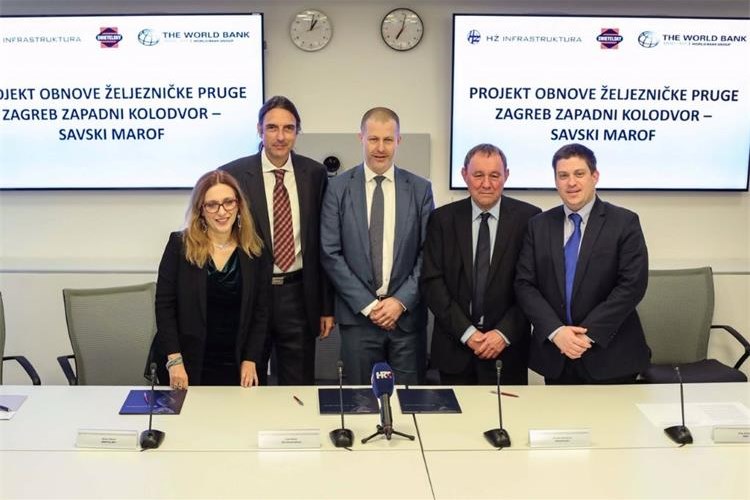 A €49.4 million contract for the reconstruction of the railway from the Zagreb West Rail Station to Savski Marof was signed on Thursday in the World Bank Office in Croatia.
The contract refers to the investment, worth worth HRK 365.7 million without VAT, and of that amount, HRK 210 million will be covered by a loan approved by the World Bank.
The construction works are to be carried out by the Swietelsky company and the deadline for completion is 27 months.
The reconstruction will involve the upgrade of bridges at Krapina, Luznica, Vrabescak as well as two underpasses and three subways.
The railway stations in Savski Marof and Brdovec too will be refurbished as well as passenger platforms at all stations along that route.
President of the HZ Infrastruktura railway operator Ivan Krsic said that the project will ensure the reconstruction of infrastructure along the 17.8 kilometres of the rail line and the RH1 railway corridor which is significant for international transport.
More than 160 trains pass along that route every day, which means that it is the most frequented railway in Croatia, Krsic said.
The last time the railway was reconstructed was in 1969 and once the works are completed, trains will be able to travel at 120 km/h instead of the current 60 km/h.
Transport Minister Oleg Butkovic said that the contract referred to an important section of the RH1 railway corridor and that soon several grant agreements would be signed in that regard.
"Currently about €1.5 billion are being invested in the railway infrastructure and by 2030 those investments will be increased to €3.5 billion," Butkovic said.
World Bank director for Croatia Elisabetta Capannelli underscored that the bank had been a long term partner to the government in the railway sector and the latest investment would assist in removing bottlenecks.
(
Hina
)
Announcements