Plenkovic and Butkovic pleased with pace of work on Istria motorway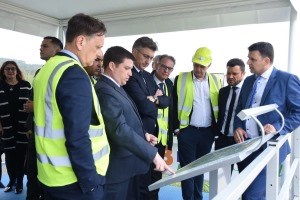 The work on upgrading Istria's road network to motorway status is progressing well, Prime Minister Andrej Plenkovic and Minister of the Sea, Transport and Infrastructure Oleg Butkovic said on Friday during a visit to a construction site at the Ivoli intersection.
"The work is progressing well, a lot of Croatian subcontractors are involved and we are glad about that. What is important to us is that the work is expected to be completed in two and a half years from today. The total value of the project is 160 million euros. This shows how important it is to us to integrate Istria's road network with the rest of Croatia," Plenkovic said, adding that the work is proceeding ahead of schedule.
The work on upgrading the section from Rogovici to the Ucka tunnel began late last year and was expected to be finished in three years; the investment is worth HRK 1.2 billion (EUR 160 million). The 28-km-long section will have 31 structures, including 11 viaducts. The first stretch from Rogovici to Cerovlje, which is 12 kilometres long, is expected to open to traffic at the end of 2020.
(Hina)
Announcements