Croatian Post set to build €8.1 m logistics centre outside Rijeka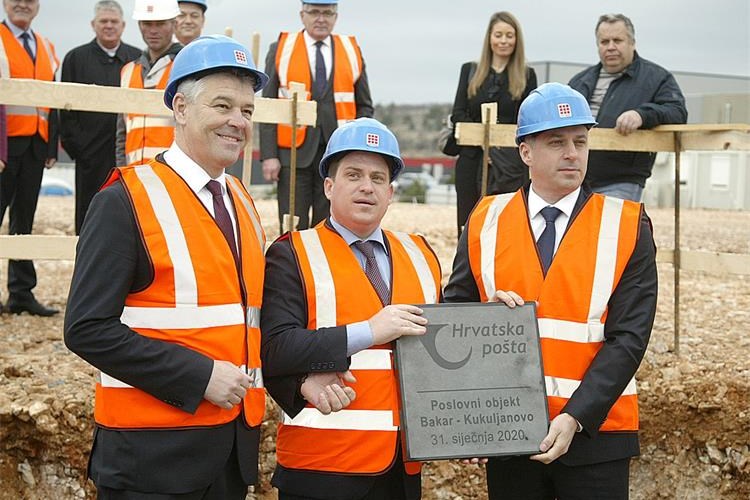 A cornerstone-laying ceremony for the future, HRK 60 million logistics centre of Croatian Post (HP) was held in Kukuljanovo in the town of Bakar near Rijeka on Friday morning.
The new 5,000-square-metre HP facility will be financed by a corporate loan and it will employ some 350 workers. The construction work, conducted by the Kamgrad company, is to take 18 months.
The future centre in Kukuljanovo will include a distribution centre, mail sorting systems and administration.
Croatian Post is the leading logistics and postal services provider in Croatia and its main business activities include the transport and delivery of letters and parcels.
Attending the ceremony, Transport and Infrastructure Minister Oleg Butkovic praised HP for efforts to develop its business.
HP is one of the most successful state-owned companies with a turnover of 600 million kuna, he added.
The minister recalled that HP had opened a new sorting centre outside Zagreb. The HP Sorting Centre, an investment worth HRK 350 million (approx. EUR 47.36 million), was inaugurated in Velika Gorica last September.
The HP management board chairman, Ivan Culo, said that the investment in the Kukuljanovo centre would be conducive to HP efforts to do business more efficiently.
"In the last three years, we have expanded the logistics centre in Osijek, built a new logistics centre in Zadar, enlarged our capacities in Bjelovar and finished our investment in Velika Gorica," Culo said.
( €1 = HRK 7.4)
(
Hina
)
News from media