Contract signed for project documentation for vertical quay in Vukovar Port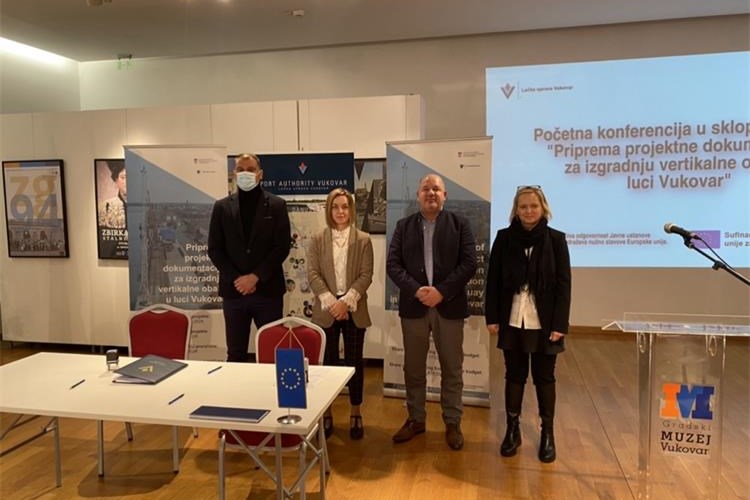 A contract was signed on Wednesday between the Vukovar Port Authority and the IGH Institute for making project documentation for a vertical waterfront at the Vukovar Port worth €1.67 million.
The project is being co-financed with EU grants, which account for 85% of the funding, while the remainder will come from the state budget. The project should be completed by 31 March 2024.
"When the project is completed, we will have 300 metres of a new vertical waterfront at the Vukovar port. To date, we have signed a contract for project management and today we have signed a contract for project documentation with a consortium of bidders comprising IGH, KPMG Croatia d.o.o. and the Vodoprivredni Projektni Biro from Zagreb", the port's acting director,
Iva Horvat
, said.
The document should result in the issuance of building permits, after which we will apply for EU funds required for construction, she added.
"The idea is to construct 300 metres of a new vertical waterfront at the Vukovar Port that will be connected to the railway infrastructure by building new industrial tracks, as well as with the road infrastructure by building access roads. A new handling area and warehouses should be built as well," she said, adding that this would enable ships to dock regardless of the River Danube's depth.
IGH management board president Robert Petrosian said that the project is part of a broader development project for the port along the Rheine-Danube corridor.
The head of the inland navigation office at the Ministry of the Sea, Transport and Infrastructure,
Duška Kunštek
, said that this was a strategic project for Slavonia's development.
Vukovar Port is the only river port in Croatia. It is located on the right bank of the Danube River and enables navigation throughout the year.
The port covers an area of about 19 hectares, with 2.68 hectares used by concessionaires. The four-berth waterfront is 450 metres long. With its current capacity the port handles between 1,200,000 to 1,500,000 tonnes of cargo annually.
(
Hina
)
News